FUNAAB Final Year Student Reportedly Dies Due to Lack of Oxygen at FMC Abeokuta
A final year student of the Federal University of Agriculture, Abeokuta, FUNAAB, identified as Olaniyi Ashimi, has reportedly died due to lack of oxygen and ambulance at FMC Abeokuta, Ogun State.
According to Twitter user @sammiee_oj95, the deceased was rushed to the hospital following an accident that occurred on their way back from a conference along Abeokuta-Ibadan road. On getting to the hospital, there was no one to attend to them even after 24hrs, he further explained that there was no functioning X-ray machines at the hospital to properly scan the accident victims. It was the following day they detected that the deceased had an internal bleeding and was referred to UCH but unfortunately, FMC allegedly had no ambulance to convey the victim to Ibadan and worst of all, they had no enough oxygen to sustain him.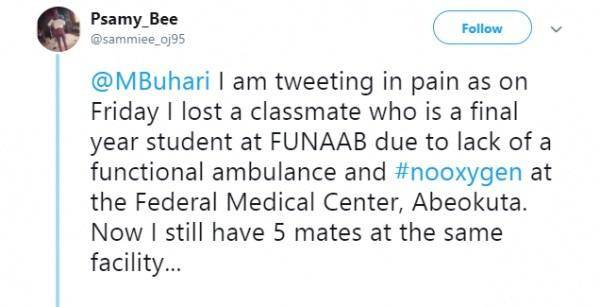 The twitter user also blamed the government over the poor Federal road, she explain the terrible state of the road.
Read the tweets below;
"I am tweeting in pain as on Friday I lost a classmate who is a final year student at FUNAAB due to lack of a functional ambulance and #nooxygen at the Federal Medical Center, Abeokuta. Now I still have 5 mates at the same facility…
@MBuhari this people have not been attended to by no one even a nurse in the last 24 hours. This is the lives of Nigerian students at stake. Asides the lack of up to date facilities @ FMC Idi AAbeokuta, there is also a lack of personnel in the complex.
@MBuhari these students would not be in this situation if the Abeokuta to Ibadan road was not a narrow one. Not only is it narrow it is also in a deplorable state. Guys you need to see this road. They had an accident on that road on their way from a conference.
@MBuhari it is so appalling that a federal road is just one lane not just that it is saddening there is no ambulance and #nooxygen in a Federal hospital too. Pls let's t now to save the others in very critical conditions.
Upon getting to FMC we met the following: 1.Fmc has no functioning xray machine.. crazy right.. 2. They couldn't even do a proper thorough scan/test for an accident victim…
No tests no scan they continued. For 24 hours no one knew Niyi had an internal bleeding until Friday and he had to be referred to UCH but FMC had no ambulance and worse off #nooxygen to move him to Ibadan… After hours we found a way to move him"